SAI GREEN GARDEN MADAMPATTI
MADHAMPATTI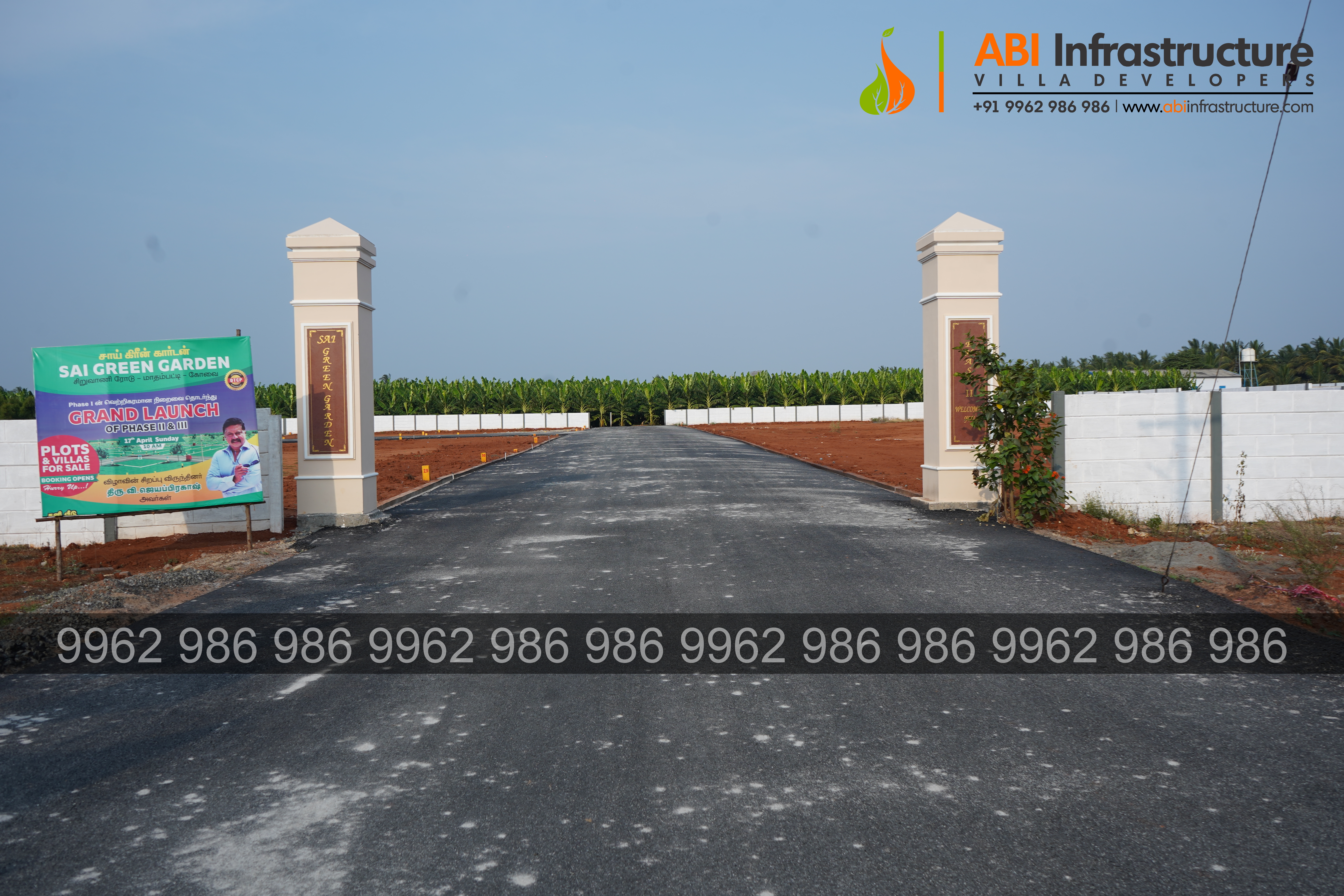 PROJECT INFORMATION
Total Area - 25 Acres
Total Units - 130 Units
Land Area - 1550 Sft Onwards
Location - Madhampatti
Highlight - 5 Mins from Siruvani Main Rd
Road Width - 30 Feet Wide Road
SAI GREEN GARDEN MADAMPATTI - MADHAMPATTI
SAI GREEN GARDEN is a DTCP-approved project spread across approximately 15 acres of land, consisting of 176 plots. We have developed beautiful villas in the Western Ghats region of Coimbatore, surrounded by a pollution-free atmosphere, to fulfill your dream of living in a serene environment. Our project is dedicated to promoting green living, which is a significant step towards addressing today's environmental issues.
SAI GREEN GARDEN offers all the comfort and amenities one would expect in a modern home. The project is located in a tranquil and peaceful area, providing a great place to live, away from the hustle and bustle of city life. Despite being situated in a quiet area, you will still have access to all the necessary facilities needed for contemporary living.
If you're looking to buy a dream home near Siruvani Main Road and start your investment journey in real estate, look no further than the plots and villas in Sai Green Garden, Madampatti. Our gated community real estate properties with DTCP-approved layouts are built in pollution-free environments in well-developed locations in Coimbatore, equipped with all the essential facilities.
We offer a wide range of opportunities for growing your wealth through investment in real estate. Our sustainable ways to grow your wealth creation process ensure that you can secure your future and that of your children.
Our goal is to help you find your dream home, bringing happiness to you and your family. Our properties come equipped with modern amenities that you have never experienced before. To book a property visit, all you need to do is call us, and our dedicated team will be there to help you find the perfect property.
Call now: +91 99629 86986.
PROJECT AMENITIES
Entrace Arch
Street Light
Children Play Area
Tar Road
24 X 7 Guard
Frequent Bus Service
Pure Siruvani Water
Do you have any plans for future investments!
Investing in real estate can be successful, but going it alone can be challenging and highly risky. Not to worry, We got you covered. We assist you in locating spacious plots and luxurious homes. Together, we can shape your destiny.
Contact Us