KRISHNA AVENUE KARAMADAI
KARAMADAI - OOTY ROAD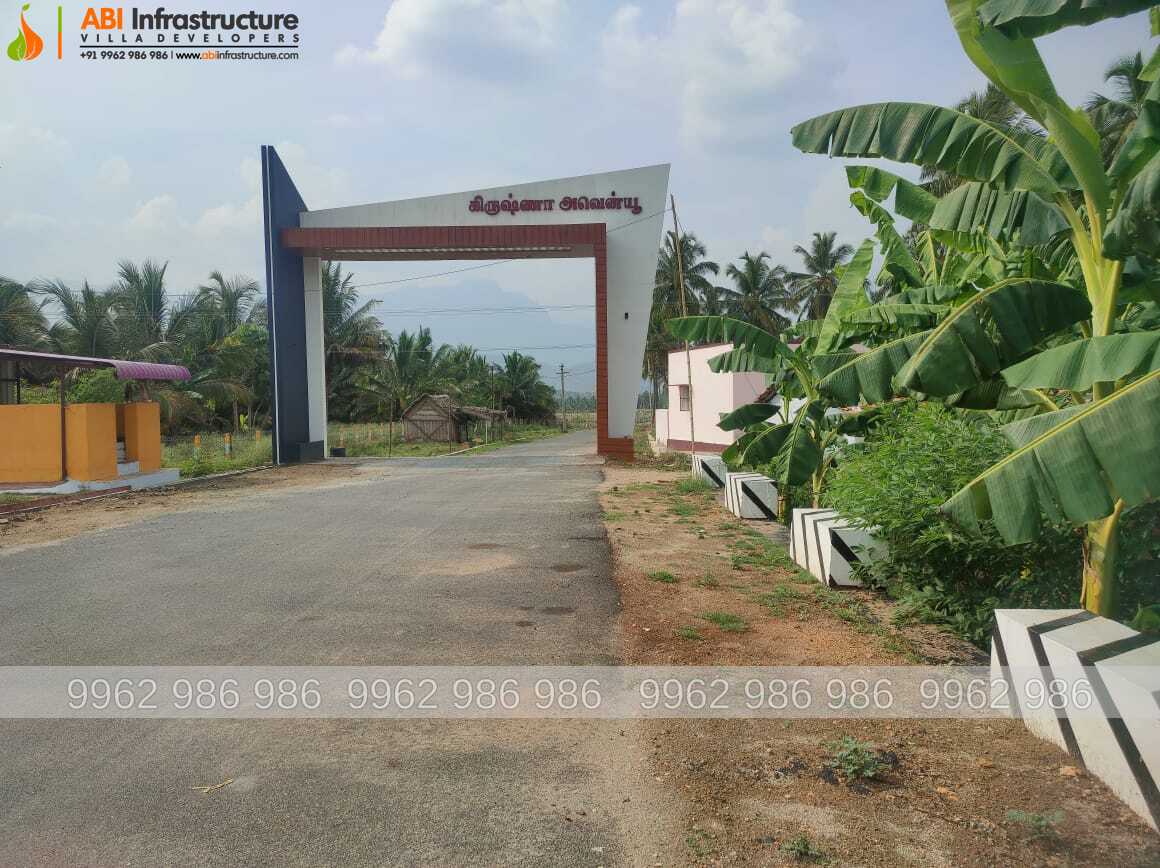 PROJECT INFORMATION
Total Area - 22 Acres
Total Units - 491 Units
Land Area - 2 Cents Onwards
Location - Karamadai - Ooty Road
Highlight - WellConnected with Mettupalayam Road
Road Width - 30 Feet
KRISHNA AVENUE KARAMADAI - KARAMADAI - OOTY ROAD
In Krishna Avenue, Karamadai, we are developing residential plots and villas with DTCP-approved layouts in the best ever gated community in Coimbatore's prime locations, which have consistent development for people's lifestyles to provide a great environment.

Krishna Avenue is a DTCP-approved residential project in Karamadai, Coimbatore. Abi Infrastructure provides sustainable opportunities to invest in real estate properties and your dream home.
Choose from one or more than 500 plots in a spacious community spread over 22 acres with beautifully designed villas.
Property Details: Krishna Avenue, Karamadai:
In Karamadai, Coimbatore, there is a ready-to-move-in housing society called Krishna Avenue. It provides villas at a range of price points.
These residences are a perfect combination of elegance and comfort, made to meet your needs and conveniences. This project offers villas with 1 BHK, 2BHK, and 3 BHK in the buildup area, ranging from 500 sq. ft. to 2000 sq. ft.
Families have begun to move into this housing society, making it ready to be called home. Here are a few characteristics of the housing community on Krishna Avenue.
Where is Krishna Avenue located in Coimbatore?
Krishna Avenue is located 500 m from Karamadai, One of the best places to be is Karamadai, which has an economy that is growing and a wealthy perspective in Coimbatore..You can reach Krishna Avenue within 2 minutes via Velliangadu Road.
Karamadai located nearly 7 km from Mettupalayam, The quality of the surrounding infrastructure and the potential of a growing community add more value to Karamadai.
The frequent transportation facilities in Krishna Avenue, Karamadai, make your life easier.
Amenities and Features:
In addition to showing real estate properties, we also have residential plots and villas with high-class modern amenities that enhance your lifestyle, and bring happiness to your family.
Explore our Best Amenities in Krishna Avenue, Karamadai
Entrance arch with a red carpet that is well-built.
Individual Pipeline.
Internal street lights.
24x7 Securities.
Frequent Transportation.
Internal Tar Road way.
Boundary Compound wall.
Benefits around Krishna Avenue, Karamadai:
1.Hospitals and Medical Centres within 2 km - Sowmya Hospital, Hindustan Multispeciality Hospital, Savitha Medical centre, RA Medical centre.
2.Schools within 5 km - ICS Junior School, S.V.G.V Matric Hr. Sec School, The Monarch International School, SRSI Matriculation Hr. Sec. School.
3.Colleges within 6 km - Christ the King Engineering College, Sri Sakthi Engineering College, Holly Angels Women's College, Pioneer College of Arts and Science.
4.Shopping centres within 6 km - VRX Complex, KTG Complex,Lakshmi Store,
5.Entertainment Centres within 5 km - Abhirami Cinemas, Ganesh Cinemas, Sri Sakthi Cinemas,
6.Sports & Fitness Centres within 3 km - Unique Lifestyle Fitness centre, Warriors Den GTM, Beast Factory Fitness studio, Vipin Fitness centre.
Call us to book your property visit today and turn your dreams into reality! Don't miss out on the opportunity to find your ideal plot or villa. Your dream home is waiting for you.
Call us now : +91 99629 86986.
PROJECT AMENITIES
24 X 7 Guard
Boundary Compound Wall
Entrace Arch
Individual Water Pipeline
Tar Road
Street Light
Do you have any plans for future investments!
Investing in real estate can be successful, but going it alone can be challenging and highly risky. Not to worry, We got you covered. We assist you in locating spacious plots and luxurious homes. Together, we can shape your destiny.
Contact Us