TEMPLE TOWN KARAMADAI
METTUPALAYAM ROAD - COIMBATORE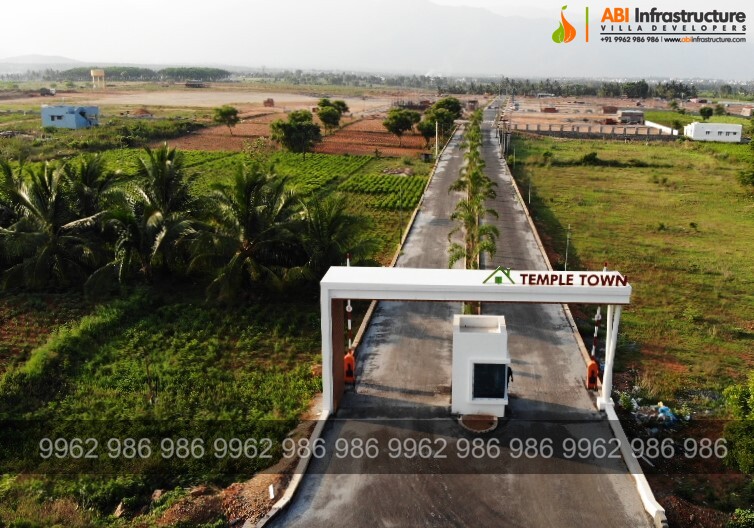 PROJECT INFORMATION
Total Area 34 Acres
Total Units 505 Units
Land Area 655
Location METTUPALAYAM ROAD - COIMBATORE
Highlight 10 Minutes to Sree Sakthi Eng College
Road Width 30-40-60 Feet Wide Road
TEMPLE TOWN KARAMADAI - METTUPALAYAM ROAD - COIMBATORE
Temple Town is a DTCP approved residential project at Karamadai Coimbatore. Choose from one of 506 plots on a spacious community spread of 27 acres with beautifully designed villas with surrounded mountain views. An archway marks the entrance. Avenues with a tree canopy are a standard option. Throughout the week, security is available 24 hours a day, seven days a week. On each plot, there is a separate water pipeline. There will be paths for walking and running. Solar-powered street lighting is gaining popularity. The widths of the roads range from 60 to 40 feet. Town in very easily accessible to the city, just a Km to reach Coimbatore – Mettupalayam Road.
PROJECT AMENITIES
24 X 7 Guard
Children Play Area
Tar Road
Street Light
Pure Siruvani Water
Entrace Arch
Frequent Bus Service
LOCATION
YOUTUBE LINK
Do you have any plans for future investments!
Investing in real estate can be successful, but going it alone can be challenging and highly risky. Not to worry, We got you covered. We assist you in locating spacious plots and luxurious homes. Together, we can shape your destiny.
Contact Us